Delhi hit and run case CCTV 17 year old rich father son took life of a man
https://youtu.be/gRzi402Zif4
KoLKATA: A 150-metre stretch of the controversy-ridden Vivekananda Road flyover, which has been in the making for the past eight years, came crashing down on hundreds of unsuspecting pedestrians and commuters on Thursday afternoon, barely seven hours after workers had finished concretising the portion. At least 21 people have been killed in the accident. But officials did not rule out chances of the toll climbing, with many of those in hospital critically wounded and many still feared trapped under the debris of the stretch that is crucial for the litigation-marred flyover.
Chief minister Mamata Banerjee, saddled with another major problem in the run-up to an election that suddenly does not look so comfortable, rushed to oversee the post-crash relief and rescue operation and — as a pointed aside before leaving the scene of the tragedy — said the flyover was conceptualized and the contracts awarded when the CPM was in power in 2008. The Hyderabad-based contractor, IVRCL, faced with an FIR, came up with an even more grotesque explanation: a senior spokesperson described it as "an act of God".
But experts pointed to factors that might be much more mundane: they ranged from long-term factors like the Trinamool government's unseemly rush to complete the work before the elections to more immediate ones like faulty engineering. The crash so soon after the concretisation might indicate the steel framework was not strong enough to bear its weight, experts said.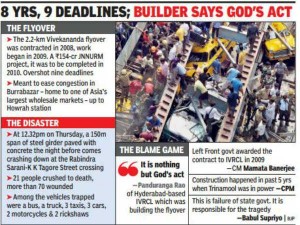 Woman claims to be married to IbrahimSamaha, but says hijacker not her husband
An Egyptian woman has said she is the wife of Ibrahim Samaha — the name given earlier by Egyptian officials as the hijacker. She says her husband, with the same name, is not the hijacker and that he was on his way to Cairo en route to the United States to attend a conference.
The woman, who identified herself as Nahla, told the private TV network ONTV in a telephone interview that her husband had never been to Cyprus and that a photo shown on Egyptian and regional TV channels and purporting to show the hijacker is not her husband.
The confusion over the identity of the hijacker could not immediately be resolved.